The property you are looking for is no longer available.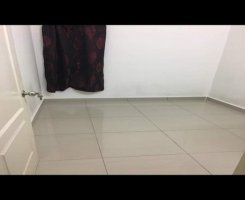 Selangor > Petaling Jaya
Available immediately 480/month utilities are included. malaysian chinese. ceiling fan, light light cooking allow, fridge and washing machine available. minimum one year contract. 10mins walk to ktm seri setia...

Perhaps the ads below can help you.
Room for rent in selangor Selangor > Pusat Bandar Puchong
Master room for rent puchong walking distance to lrt station near ioi mall puchong jaya - setiawalk pusat bandar puchong - pfcc bandar puteri puchong most beautiful modern design female master room for rent ready...
Read more >> Selangor > Putra heights, subang jaya
Queen size bed, air cond, fan, wardrobe, swimming pool, gym and 10 minutes walk to lrt station, 24 hours security
Read more >> Selangor > Petaling Jaya
✔️ 4 rooms and 2 toilet. 1350sf big house and the best view beautiful house with new furniture. so nice and well kept house too. ✔️masteroom attached bathroom so middle room and 3rd room sharing 1...
Read more >> Selangor > Petaling Jaya
Available immediately one pax 600/month two pax 650/ month utilities are included. malaysian chinese. ceiling fan, light cooking allow, fridge, and washing machine available. minimum one year contract. 10mins...
Read more >> Selangor > 68100
Selayang 228 condominium ===================== monthly rental rm500 ===================== big room level 12 fan aircond swimming pool gymnasium 24 hour security guard mini market playground call /...
Read more >> Selangor > Seri kembangan
Whole unit above evo mall for rent, airbnb ready / can be office or residential. infinity pool, parking, available. contact 0195070730 for interested to rent after 1st september 2022
Read more >> Selangor > Petaling Jaya
Available 1 september 2022 one pax 750/month two pax 800/ month utilities are included. malaysian chinese. ceiling fan, light cooking allow, fridge, and washing machine available. minimum one year...
Read more >> Selangor > Petaling Jaya
Available immediately one pax 600/month two pax 650/ month utilities are included. malaysian chinese. ceiling fan, light cooking allow, fridge, and washing machine available. minimum one year contract. 10mins...
Read more >>
Property 1 to 10 out of 855